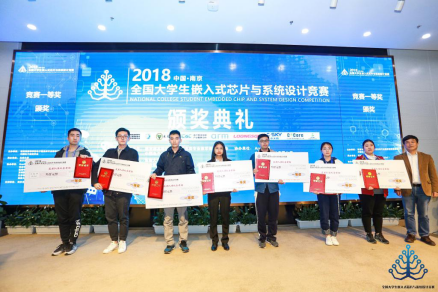 The winners of Chengxian College
National Embedded System Design Contest 2018 was sponsored by the Electronic Information Professional Teaching Steering Committee of the Ministry of Education and the China Electronic Education Association. It was hosted by Southeast University and Nanjing IC Industry Service Center (ICisC). The competition for undergraduate and graduate students all over the country was begun in June 2018.
The Students and teacher from the School of Electron and Computer, Chengxian College won some important prizes. They are: Chen Jingxin, Fang Chuyu and Yu Fan won the national first prize with the AI Self-balancing Motorcycles; Chen Siyu and Yan Xinyuan won the national second prize with the Electronic Bulletin Board; and Supervisor Zhang Zhipeng won the award of outstanding instructor.