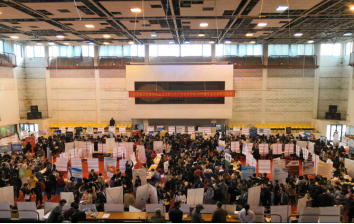 The live recruitment fair, in the Goto Audium, Chengxian College
The Linkage Activities of Hundred Institutes in Jiangsu Province for Employment and Autumn Recuitment Fair for 2019 Graduates were held successfully by Chengxian College in the Goto Stadium on November 10th , 2018.
The Career Office, Chengxian Collge fully utilized the new mode of "Internet + Employment" to make use of the new media, such as Wechat, Mobile APP to propagandize the Recuitment Fair. It attracted nearly hundred famous enterprises to participate the Fair, for example,Nanjing Nanzhi Advanced Optoelectronic Integration Technology Research Institute Co.,Ltd., Nanjing Keyuan Automation Group Co., Ltd. and Suzhou Traffic Engineering Group Co., Ltd. They offer more than 2,000 job positions.
In face of the complicated and severe employment situation, Chengxian Collge insists on maintaining long-term contact with employers, actively introducing more quality employing units, and promoting students' full and high-quality employment.