The Opening Ceremony for new students of 2019 was held at Goto Stadium, Southeast University Chengxian College on September 2nd. At the same time, a live broadcast was given in the Lecture Hall of the Synthetic Building.
Prof. Zuo Wei, the Secretary of Party Committee of Southeast University, Prof. Zheng Jiamao, Deputy Secretary of SEU, Vice-chairman of the board of directors and President of Chengxian College, and other college leaders and heads of departments and secondary schools attended the opening ceremony.
The opening ceremony started from the singing by all participants the majestic national anthem. Xing Ji Hong, secretary of Party Committee of Chengxian College presided over the ceremony.
Prof. Zheng Jiamao, vice President of Southeast University Chengxian College, addressed the ceremony on behalf of the Chengxian College Board and the faculty. In his speech "Crossing the Mediocrity and Achieving a Brilliant Life", President Zheng extended his warm welcome to the new first-year students and expressed his best wishes for their future. He hoped that the new students could stand high and aim far, be brave to shoulder responsibilities and cultivate true devotion to their families and the country. They should be diligent in learning, seek truth from facts and form diligent learning habits. They should also think independently so as to explore further and foster innovative thinking. As new university students, they should have self-reliance and self-discipline, keep an open mind and be inclusive, and develop a generous personality. Finally, President Zheng hoped that the new students should remember their original aspiration of benefiting the people, keep firmly in mind the mission of national rejuvenation, move forward, strive to be the best, keep accumulating strength and live a most brilliant life.
The Executive Vice-president Xu Yinqiu of Chengxian College announced the names of winners of "the Merit Students", "the Excellent Student Cadres" and "the Advanced Class" of Jiangsu Province in the academic year of 2017-2018. Secretary Zuo Wei and President Zheng Jiamao awarded the prizes to the winners and the representatives of the collective winners.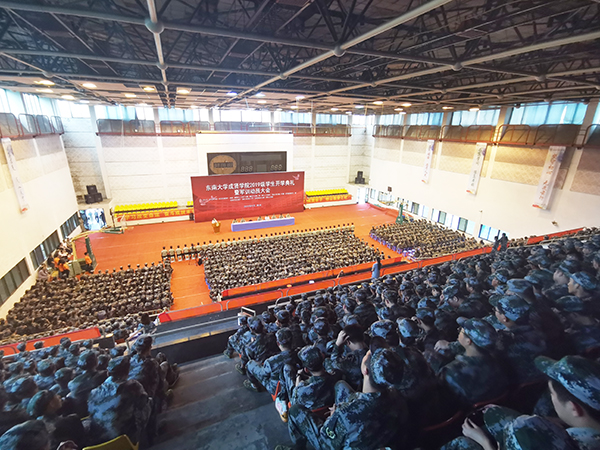 Opening Ceremony for Students of 2019 at Chengxian College